Theresa May condemns Boris Johnson's burka comments
Comments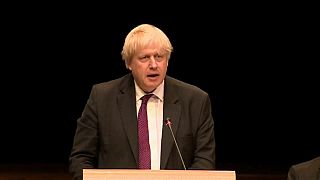 Theresa May has criticised her former Foreign Secretary Boris Johnson for an article in which he described burka-wearing women as looking "absolutely ridiculous".
Mr Johnson made the remarks in a Daily Telegraph column.
The Conservative Party's chairman, Brandon Lewis, has called on Mr Johnson to apologise for the comments.
Johnson resigned as Foreign Secretary in July, accusing Theresa May of killing "the Brexit dream" with her plan to seek close economic ties with the European Union after the UK leaves the bloc next year.
The resignation solidified Johnson's position as a leader of the pro-Brexit wing of the Conservative Party, which is deeply divided over its attitude to the EU.
There is speculation that May will face a leadership challenge if faltering Brexit negotiations don't improve - and Johnson is likely to be a contender to replace her.
Some suspected Johnson's burka comments were intended to boost his appeal among right-wing members of the party.
Sayeeda Warsi, a Conservative member of the House of Lords, said Johnson was using Muslim women as a "convenient political football to try and increase his poll ratings."