Heatwave: Thousands of dead fish pulled from the River Rhine
Comments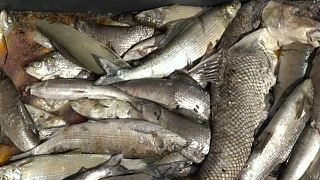 Thousands of dead fish are being pulled from the River Rhine amid Europe's longest heatwave in decades.
Water authorities in Switzerland are struggling to save a number of species, most notably Grayling fish. This is due to the rising heat affecting oxygen levels.
Temperatures in the water for this time of year are normally around 23 degrees Celsius – which Grayling normally thrive in. However, with water temperatures 4 degrees higher than the seasonal average – the Swiss Fishery Association had taken to creating six pools of cooler water as shelter. It was reported that fish had taken to cooler areas but it wasn't sufficient enough to keep the Grayling alive.
Fishing patrols in Ellikon am Rhein as well as Basel to check for dead fish due to fears that this summer's heatwave could be a repeat of 2003 where 90% of Grayling's perished.