Firefighters battle Iberia wildfires
Comments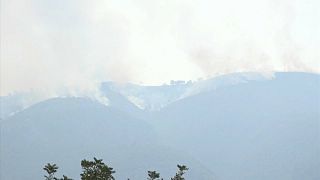 Over 1400 firefighters are still trying to bring a wildfire in southern Portugal under control. The blaze in the Monchique district of the Algarve raged over the weekend and the operation against it has been hampered by near-record high temperatures. The flames have now spread closer to the coast and the municipalities of Silves and Portmao. The Algarve is a popular area for tourists.
"80 percent of the forest is eucalyptus and I bet if there were not so many eucalyptus trees it wouldn't be so bad like this, said one local resident. "Portugal has to wake up and not give in to economic interests."
The progress of the fire can be seen from space. It has already destroyed over 21,000 hectares according to experts. That is about half of the area that tore through the region in 2003.
In neighboring Spain emergency services were engaged on Wednesday in tackling a major wildfire in the forest of Lutxent around 80km south of Valencia. The blaze has already forced the evacuation of around 2500 people and the authorities say the situation remains complicated.