In Paris, historic ties and designer takes on basketball
Comments
By Reuters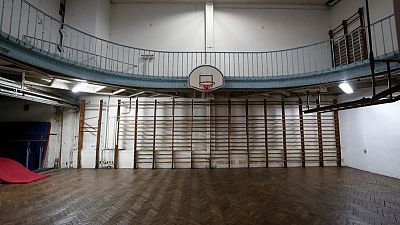 By Maya Barkin
PARIS (Reuters) – France may have won the World Cup and be a football-obsessed nation, but it's the U.S. game of basketball that has some surprisingly old roots and expanding niches in Paris.
The world's oldest still-in-use basketball court is tucked away on a quiet street in the heart of the city's 9th arrondissement, not far from the Folies Bergere cabaret hall.
Built in 1893, two years after the first court was created for the YMCA in Springfield, Massachusetts, the Paris court sits in the lower floor of the Union Chretienne des Jeunes Gens de Paris, the French equivalent of the YMCA.
With a floor made of parquet slats and a balcony for spectators on all sides, it is an almost exact replica of the Massachusetts court, although it also has two cast iron pillars in the middle, making play a little awkward.
The Paris court was part-funded by an American philanthropist keen to foster closer Franco-U.S. ties. When the Springfield court was destroyed in a fire, it left the one in Paris as the oldest court still in use — every Saturday.
"We say it is the oldest basketball court in the world because the one in the U.S. burned down," said Sylvie Manach, director of the youth centre, which also boasts France's first indoor swimming pool, although it's no longer in use.
"People come from all over the world" to see the court and the rest of the historic building, she said.
Not far from that small piece of sporting history, a more modern take on the game has been created in the gap between two buildings on another typically Parisian street.
The Pigalle Duperre court, built with the support of Nike and with design input from fashion label Pigalle, is a clash of colours and angles that play with the eye while retaining the shape and form of a regular basketball court.
Painted in shades of purple, pink, yellow, orange and blue, the rubber-surfaced court functions as both a place for locals to shoot hoops and a kind of urban art project that can be used for fashion shoots and shows.
"We wanted to explore the relationship between sport, art and culture and its emergence as a powerful socio-cultural indicator," said the team behind the design.
It's "for the community and the game" added Stephane Ashpool, director of Pigalle and an instigator of the project.
(Editing by Luke Baker and Matthew Mpoke Bigg)