Four takeaways from Trump's meeting with Italy PM Giuseppe Conte
Comments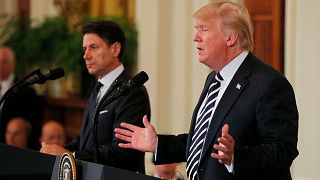 Italy opens the door to Russia
Even before Monday's meeting it was clear that Donald Trump and his fellow populist Giuseppe Conte had much in common.
Now they have even more to bond them after Prime Minister Conte said he was "open to dialogue with Russia".
Both however have ruled out lifting economic sanctions on Moscow, imposed after its annexation of Crimea.
Trump open to Iran meeting
Donald Trump has admitted he is willing to meet with Iran — just a week after threatening its president Hassan Rouhani.
"I'd meet with anybody, I believe in meetings," said Trump, adding especially in cases where war was at stake.
A week ago Trump directed a tweet at Rouhani all in capitals that read: "Never, ever threaten the United States again or you will suffer consequences the likes of which few throughout history have ever suffered before."
That came after Rouhani had addressed Trump in a speech, saying that hostile US policies could lead to "the mother of all wars".
Relations between the two countries have been tense since Trump pulled the US out of the Iran nuclear deal.
Italy to organise Libya conference
Conte said he was going to organise a conference to explore ways of how to stabilise Libya — the main departure point for migrants from Africa trying to reach Europe.
He leads a populist coalition in Italy that was elected on a promise of stopping the flow of migrants into the country.
Italy is competing with neighboring France over how best to deal with Libya, which has been wracked by violence for years.
Conte believes a conference in Rome, backed by the US, will help Rome establish itself as the major interlocutor for Libya's warring factions.
Trump threatens shutdown
Trump used his press conference with Conte to threaten to shut down the federal government over his controversial border wall with Mexico.
Congress must pass a spending bill by the end of September to avert a government shutdown, and Trump on Monday reiterated his demand that immigration reforms, including $25 billion (€21.3 billion) for construction of a wall on the US border with Mexico, be included in any spending package.
"If we don't get border security, after many, many years of talk within the United States, I would have no problem doing a shutdown," said Trump, adding he was open to discussion with Congress on the issue.
Watch the press conference in full