British man unearths rare Ice Age walrus skull on dog walk
Comments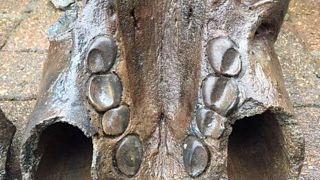 A dog walker has uncovered a rare Ice Age-era walrus skull on a beach in northern England, in a discovery that experts hope will lead to a greater understanding of the species and its life on Europe's prehistoric coastlines.
Brett Thomson, 36, said he was walking his dog along a beach in North Yorkshire earlier this year when he noticed a strange hole in the ground.
"Where the pebbles at the back end of the beach meets the land, there was literally a hole, almost like a tube, and I'm looking at it and thinking 'what's that?' I scraped some back and started to see teeth... I couldn't believe it," he told Euronews.
While Thomson was unsure of what the skull was, he knew immediately that he'd found "something amazing".
"When I pulled it out I knew straight away this is not something that's been around here recently," he said.
"I took it home, cleaned it up and did a bit of research on the internet and straight away it came up that I were looking at a walrus skull. And I thought 'wow I've got a walrus skull here'."
The skull, which is now being displayed at England's Rotunda Museum, is believed to be at least 120,000 years old.
Experts say it is the first of its kind to be found in situ.
The walrus is believed to have originated from Doggerland, an area of land now submerged beneath the North Sea that once connected Britain to continental Europe.
Fossil enthusiast Thomson said he's made discoveries before but "just little ammonites and stuff like that".
"You normally never think you're going to find something so rare," he said.
"It's nice to get out, get on the beach with my dog and breathe some sea air — so if you find stuff that's so rare along the way that's amazing."