Germany toughens approach on migrants as EU struggles for unity
Comments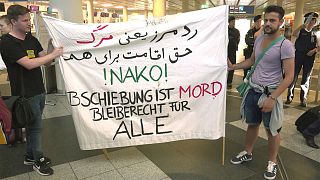 In this edition of Insiders Euronews examines how migration continues to top the European agenda and exposes Europe's fault lines, even if a deal was reached in late June to toughen border controls and beef up repatriation procedures of migrants non-eligible for asylum.
Italy recently joined the bandwagon of restrictive immigration policies typically enforced by Eastern European countries. More surprisingly, departing from its open-arm migration policy, Germany is also changing tack.
Under pressure from her Bavarian political allies, Angela Merkel caved in and agreed to not only stem illegal immigration but also make sure that expulsions would be swifter.
Our reporter Hans von der Brelie travelled to gauge the mood, along the Austrian border where huge numbers of migrants crossed into Germany back in 2015. The area continues to be a crossing point but will, as of August, be monitored by a new and well-equipped local police force.
Transit centres have also been set up in southern Germany to quickly process asylum seekers and expel them if their application is refused. The policy is dividing Germany, though polls show that a large majority of Germans now favour tougher migration rules.
Sophie Claudet tackles the issues raised in Hans' report with Raphael Bossong, a researcher at German Institute for International and Security Affairs, who throws a spotlight on the tensions over migration in Germany and across the European Union.