Date beauty contest and superfood snacks: highlights from the Liwa Date Festival
Comments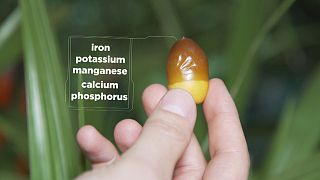 The Liwa Date Festival has come to an end after eleven days of celebrating the new date harvest.
The UAE is the fourth largest exporter of dates worldwide, accounting for 8.5 percent of global exports. In 2015, this trade amounted to around US$96mn, according to the Dubai Chamber of Commerce and Trade Map.
The annual event in the Liwa oasis brings together farmers from all over the region and it holds around 15 competitions, including a date beauty pageant with a top prize of US$ 25,000.
"It's about caring for the molasses, to create a clean cover," explains Humaid Al Mura, this year's winner of the 'Dabbas' date category. "See these spots? See how this is smooth? Caring for the palm gives you a clean cover for the date, and a good result."
Prize-winners at this year's Liwa Date Festival
ARE DATES THE NEW KALE?
Looking to attract new fans, and boost their sales figures, young farmers in the region are marketing the nutritious benefits of dates. The fruit is being made into natural energy drinks and healthy snacks, in keeping with global fitness and nutritional trends.
Dates at the 'bessar' stage, when the fruit appear yellow or red in colour and have slightly sharp yet sweet taste
Workers of the Abu Dhabi-owned date production company Al Foah, say that dates have the potential to compete with food items like kale and quinoa as the newest 'superfood'.
The fruits are packed with minerals like iron, potassium and calcium and include vitamins, riboflavin and folic acid.
For centuries in the Middle East and North Africa, they have been used as a remedy for anaemia, to strengthen bones and teeth and even help improve poor eyesight.
BRINING HERITAGE UP TO DATE
The Liwa Date Festival also highlighted the cultural heritage of the prized Arabian fruit and the traditions that surround it.
A woman weaves a traditional basket at the Liwa Date Festival
Emirati Bedouin women who used to work in agriculture, traditionally weaved the bark from date palm trees into baskets for storing and carrying the fruits as they were harvested.
"Dates are so important for us here in the UAE, as a culture," says Obaid Al Mazrouei, the festival's director, "A hundred years back, people used to live in Liwa - and other cities of UAE - by using palm leaves as materials for their houses. It's a very important food [especially] during this time of year.
SOCIAL EYES: DATES IN THE CALENDAR
Nila and Gema from Indonesia have lived in the UAE capital for 8 years and took these shots of their visit to the Liwa Date Festival.