World's oldest bread found at prehistoric dig-site in Jordan
Comments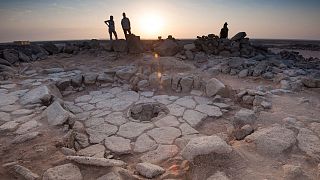 Copyright

Alexis Pantos/Handout via REUTERS
Scientists and archaeologists may have only found blackened crumbs at a prehistoric dig site in Jordan, but they reveal the earliest known evidence of bread-making.
The scraps are believed to be about 14,400 years old — some 4,000 years before agriculture emerged, according to a study published in the Proceedings of the National Academy of Sciences.
The breadcrumbs were discovered at the Black Desert archeological site in north-eastern Jordan. It is believed a fireplace was used to bake the bread.
Amaia Arranz-Otaegui, a University of Copenhagen postdoctoral researcher in archaeology and lead author of the research, told Euronews the discovery "changes many things... we always believed bread was not a product of hunter-gatherers"
Historians have traditionally linked bread to the dawn of agriculture when people cultivated plants such as wheat and ground them into flour.
Arranz-Otaegui made the unexpected discovery in the lab while looking through her soil samples. She says she found the charred crumbs but could not tell what they were. Her colleague then looked at the samples and said: "It looks like bread."
They were both shocked as they realised they were holding evidence of oldest bread in the world.
The bread is believed to be made by a culture called the Natufians. The hunter-gatherers embraced a sedentary rather than nomadic lifestyle.
"We already knew the Natufians were complex, they started building with stone and made artistic manifestations. The production of bread adds to that, they started doing lots of things that were the start of everything really," Arranz-Otaegui said.
The bread would have resembled a flatbread such as a pitta and was made out of wild cereals such as barley, einkorn or oats, as well as tubers from an aquatic papyrus relative, that had been ground into flour.
Arranz-Otaegui said there are now many more questions to ask, such as if the bread was a staple or specialty. She believes the latter.
Researchers have tried to reconstruct the recipe.
"We don't really know what it would have tasted like" but "the texture was gritty, a little bit salty, and a little sweet," Arranz-Otaegui said.
"I think it is something you could eat if you were open-minded."