Russian commissions giant mural of his wife with Moscow public funds
Comments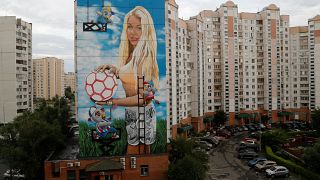 Copyright

REUTERS/Tatyana Makeyeva
The head of a Russian advertising agency used the World Cup as an opportunity to commission a 12-storey mural of his wife.
Novatek Art director Ivan Panteleev was initially tasked with decorating building facades in Moscow ahead of the football championship.
But Panteleev had other ideas; he commissioned a giant mural of his wife Daria in a gym outfit holding a football against a blue sky backdrop with cartoon birds around her.
According to Reuters, the funding for the façade came from Moscow city budget and is one of the four World Cup murals co-sponsored by the city's public relations committee.
Panteleev admitted to Reuters that the model for the mural was his wife. "It's true that the model for this painting was my wife," he said, adding that with such large paintings artists need to rely on a photograph.
He said that one of the artists is Thai graffiti artist Mue Bon, who was visiting Russia for another art project related to the World Cup.
"Panteleev couldn't resist and draw a portrait of his wife the size of the entire building. Usually, in response to criticism, he says that we're just jealous. In this case--totally jealous. Ladies, get yourself this type of husband! " wrote Anna Nistratova, an art gallery director in Moscow, in a sarcastic Facebook post.