Brexit dampens desirability of UK for overseas workers
Comments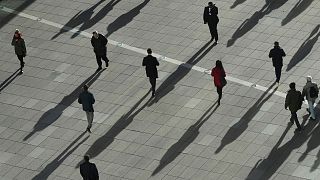 There are fewer people willing to move to the UK for work today than there were four years ago, according to a new survey, which points to Brexit as a reason for the country's decline in popularity.
The study, conducted by Boston Consulting Group and totaljobs.com, found that the UK is the fifth most desirable country in the world for overseas workers, after the United States, Germany, Canada and Australia.
The result, generated from a survey of some 366,000 workers from nearly 200 countries, marks a major decline for the UK from its second-place ranking in the last survey in 2014 when 37% of respondents said they would be willing to move there compared to 20% today.
The report notes that the decline in the UK's popularity is particularly apparent for residents of European countries, the UAE and China, who now pick the US, Australia, Germany or Canada as more attractive places to work.
The UK remains an attractive destination for English-speaking Commonwealth nations.
"Before Brexit, the UK was the top European destination for foreigners. Germany has replaced it and is now the second-most-popular work destination overall," the report notes.
The study also found that while willingness to emigrate has dipped globally, more UK residents than ever before are now prepared to move abroad for work.
Six in 10 British respondents said they were open to working overseas, compared to 44% in 2014 — marking the largest increase of any country.
But while the UK as a whole has declined in desirability, London has retained its position as the most attractive city in the world for overseas workers.
Other European cities to make it into the top 10 this year were Berlin, Barcelona, Amsterdam and Paris.
Nick South, a partner at Boston Consulting Group, said the research demonstrates "the scale of the talent challenge facing organisations in the UK."
"Despite London's enduring appeal, the UK as a whole has become less attractive to international workers, with a fall from second to fifth place in the rankings. At the same time, British workers' willingness to work abroad has significantly increased... Together, these two talent trends create a major challenge for the UK," he said.
"It is critical for UK private and public sector organisations to get on the front foot and proactively take steps to attract and retain top class talent to ensure their future success."