Hundreds of migrants rescued in Mediterranean
Comments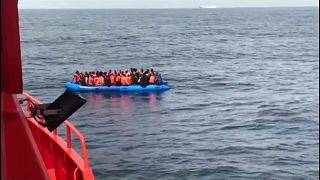 Spain's Maritime Rescue Service released footage on Saturday of a coastguard vessel picking up migrants from an inflatable dinghy in the Alboran Sea off the south-west coast of the country.
Altogether over 750 people were rescued from around 25 small boats all trying to reach Spanish shores. Some of the migrants were picked up near the Canary Islands and others from the Straits of Gibralter, a busy shipping lane with treacherous currents.
Fair weather and calm seas in recent days have resulted in an increase in attempts to reach Spain via the western Mediterranean.
Further east the rescue ship Lifeline picked up over two hundred migrants in the sea between Libya and Malta on Thursday. The Maltese military provided support supplies to the vessel.
"At the moment we are in a waiting position off the Libyan west coast with 234 people on board," explained the ship's captain Claus-Peter Reisch. "Thank god, we don't have any severe medical emergencies, so the situation is stable at the moment. By the way, Saving lives at sea is not a crime, it is a legal obligation. Also, bringing back these people to Libya is not possible, as it would go against the Geneva Refugee Convention."
The Lifeline, of the aid organization of the same name, from Dresden, Germany, has now been rejected by the Maltese government.
Previously, the Italian government had denied the ship entry into a port and asked Malta to accept the refugees.