AT&T gets go-ahead to buy Time Warner for 100 billion euros
Comments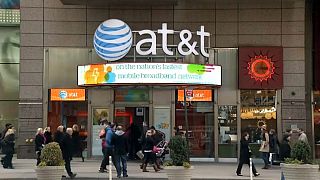 The US telecoms giant AT&T has won court approval to buy Time Warner for 100 billion euros in a blow to the Trump administration's attempts to block the deal.
The court rejected the government's arguments that the merger would harm consumers.
U.S. District Judge Richard Leon called one position "gossamer thin" and another "poppycock".
The deal is seen as a turning point for the media industry, which has been disrupted by the emergence of companies like Netflix and Google.
Cable, satellite and wireless carriers all see buying content companies as a way to boost revenue.
The ruling could prompt a wave of pay TV companies buying television and movie-makers, with Comcast's bid for some Twenty-First Century Fox assets potentially the first out of the gate.
The merger, including debt, would be the fourth largest deal ever attempted in the global telecom, media and entertainment space, according to Thomson Reuters data. It would also be the 12th largest deal in any sector, the data showed.