Blocked from western Europe, Erdogan takes his polarising rally to Bosnia
Comments
By Mladen Lakic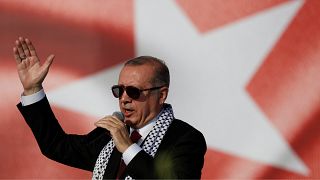 Supporters of Recep Tayyip Erdogan from across Europe will gather in Sarajevo this weekend, as the Turkish president mobilises potential voters ahead of elections next month.
The capital of Bosnia and Herzegovina is offering a platform that countries like the Netherlands and Germany have denied to Erdogan. But as is so often in the country, the decision has proved divisive.
Bozniak leader Bakir Izetbegovic will meet Erdogan, a fellow Muslim, at the event in the 20,000 seater Olympic Hall in the city. He has acknowledged that, even within his own ethnic group, the meeting has caused controversy among "insecure Bosniaks".
He said of Erdogan opponents at a gathering of the youth association of his Party of Democratic Action (SDA) last week: "Their problem is that he is a powerful Muslim leader like no other has been for quite some time. They don't have a problem with Muslims who are primitive, uneducated, who are no competition to them."
However, Izetbegovic's colleagues in the country's tri-partite presidency, Bosnian Croat Dragan Covic and Bosnian Serb Milorad Dodik, have held off from commenting on the visit, leading to speculation that the event has become a political issue ahead of elections this autumn.
"They (SDA) need Erdogan as an important, but also a symbolic figure in order to represent themselves as strong party as they face different internal problems," Enver Kazaz, a professor on the Faculty of philosophy at the state Universty in Sarajevo, told Euronews.
Bakir's wife Sebija may be a candidate for the Bosniak position in the Bosnian presidency, and could benefit from an association with a powerful foreign leader, Kazaz points out.
Sarajevo-based political analyst Ivana Maric says the rally may bring nothing more than problems to Bosnia.
"Citizens of Bosnia will not benefit from this rally. It sends the wrong message to the EU, and if we consider Bosnia's current image, it is clear that again, they [politicians] are ignoring their citizens here," Maric told Euronews.
The communication, or lack of it, around the decision-making process also points to a failure of collaboration among the members of the presidency, according to Maric.
"We can now only wait for Covic and Dodik and their reactions to this visit, and since it is election year, they will try to capitalise on it and promote deeper division here," she observed.
Salko Sokolovic, an independent MP at the Bosnian parliament, expresses similar views.
"If this is somehow used to provoke Germany it clearly sends the wrong signal, and for sure this might cause more problems for Bosnia in the future, " Sokolovic says.
The Union of European Turkish Democrats, which is organising the rally, would not comment when contacted by Euronews.
However, Sarajevo's interior ministry confirmed in a statement that it has approved a request for the event. It also requested that the derby match between local football clubs Zeljeznicar and Sarajevo be postponed.
Despite the political questions, for many Sarajevans the event is just like any other.
Many of the city hotels are full and in the city's old town, known as Bascarscija, Turkish competes with Bosnian as visitors begin to gather.
"So what if Erdogan is coming? Many presidents visit us, I do not see the problem," said Mirela Hadzibajric, a 23-year-old from Sarajevo.