Trump slams EU President and Germany at White House presser
Comments
By Nicholas Wells & Sallyann Nicholls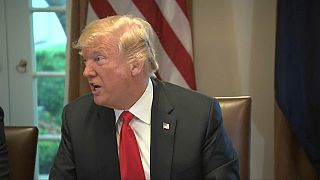 President Donald Trump has hit back at comments by the European Council President Donald Tusk who said the US could no longer be relied upon.
At the start of the EU summit in Bulgaria, Tusk said "With friends like that, who needs enemies?"
Trump was asked about the comments at a cabinet meeting attended by NATO Secretary General Jens Stoltenberg.
He told a reporter: "The European Union has been terrible to the United States on trade, they have been terrible to our workers."
Referring to an imbalance in import duties between the regions — cars shipped from the US into Europe face a 10% import tax, while European cars into the US face are charged 2.5% — he added: "It's very hard for us to sell our cars into the European Union. But the European Union — in this case, Germany — has its Mercedes and its BMWs and its cars pouring into the United States with no barriers.
"They pay a tiny tax, whereas the European Union charges a massive tax."
His comments come hours after President Tusk said free trade talks in some areas between the EU and US would not begin until Washington grants the bloc a permanent exemption on aluminium and steel tariffs. The levies have left the German auto industry feeling particularly exposed, as the US represents their second-largest market.
At the meeting attended by NATO Secretary General Jens Stoltenberg, Trump also singled out Germany as a NATO member that does not contribute fully to the military alliance.