Window closes on annual gesture: the peculiar case of the man with a portrait
Comments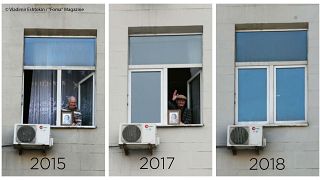 Every year during Moscow's Victory Parade on May 9 this old man stood at his apartment's window in the centre of the city with a photograph of a woman. People waved and greeted him until this month when he wasn't there.
Russian photographer Vladimir Eshtokin tells Euronews the man's story.
"Every year on May 9 when Russia celebrates Victory Day (to commemorate the end of WWII), I saw this old man as I walked down the central Tverskaya street with the "Immortal Regiment" (a social movement that pays respect for those fighting during the war).
"He stood by the window, holding a woman's portrait in his hands.
"This year, I decided to follow the "Immortal Regiment" march from the man's balcony and also take the time to get to know him a little better. It wasn't hard to figure out where he lived, I easily found the street address based on my own photos. I identified the building and the floor he lived on. I met a man in the hall downstairs and showed him the photograph on my mobile phone.
"'Do you know him?' I asked the man.
"'They say he's passed away. He lived here in this apartment,' he said.
"I buzzed the doorbell. A young man opened. Once again I showed him the picture on my mobile phone," said Eshtokin.
"His name was Igor Nikolayevich Klochkov, a military engineer. He died last winter, on Christmas Eve (Orthodox Christmas is January 7). He was 97 years old. And the woman on the portrait is his late mother."
Russian newspaper Metro told Euronews that Klochkov was forced to evacuate during the war while his father worked at the frontline as a military doctor. His mother, who was also a doctor, was left alone in Moscow to care for the wounded. After the war, Klochkov's father returned to Moscow to find out that his wife had died a few years back. Klochkov does not state a specific reason for his mother's death but thought that she died out of "unbearable solitude during the war."
Klochkov decided to bring out a portrait of his late mother when the "Eternal Regiment" march began a decade ago as a way to remember a family member that died during the war.