Fresh eruptions prompt further evacuations in Hawaii
Comments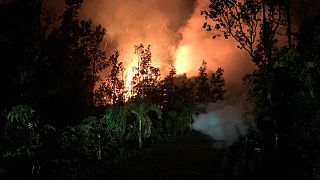 Fresh eruptions on Hawaii's Big island have sent 30 metre high fountains of lava into the air, destroying several homes.
The Civil Defence Agency said that fissures had opened up on three streets on the island's eastern tip and urged any remaining residents to evacuate as the amount of sulfur dioxide in the air reaches deadly levels.
The new activity comes a day after Kilauea volcano erupted. The most recent outbreaks have been occurring on the mountain's lower east rift zone and the US Geological survey said further eruptions were likely.
Evacuee Stephen Clapper said: "We could hear the lava exploding right from the house. And so is the house gonna still be there when we go back over there? my neighbor came running over and says 'what is that awful noise?'. And he said 'I never heard a noise like that,' and he's been here for 40 years."
The US geological survey said that while the lava was not travelling more than a "few tens of yards" from the vents, ground deformation was continuing and there was high earthquake activity in the area.