Berlin march against anti-semitism: 4 questions answered
Comments
By Jessica Saltz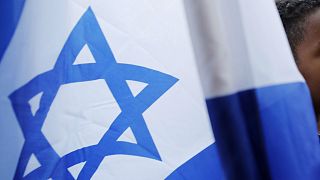 A march in Berlin is highlighting the issue of anti-semitism. Here's the low down:
What is the event about?
Berliners of all ages and cultural backgrounds are joining a public rally in solidarity with the Jewish community outside the city's main Jewish centre. Dr. Josef Schuster, the head of the Central Council for Jews in Germany and Berlin's mayor, Michael Müller, are amongst the religious and political leaders who will give speeches calling for unity and denouncing the rise of anti-Semitism. Kippas, or Yarmulkas will be handed out to members of the crowd to be worn by women and men (although traditionally it is only men who wear the headwear).
Why is this happening now?
There is growing concern in Germany, especially amongst the Jewish community, about the recent rise of anti-Semitic attacks in different parts of the country. Schuster has gone so far as to warn Jews from wearing their kippas in public, fearing it might provoke further violence. Recent separate incidents show just how pervasive anti-Jewish sentiment is in Germany in different sectors of society: from a young girl being bullied in school for being Jewish, an award-winning rap group singing anti-semitic rap lyrics, to the video that went viral of a young Arab-Israeli man being beaten with a belt in the street for wearing a kippa. These events have shocked Germany and highlighted just how widespread the problem is.
What is the root of the problem?
Anti-Semitism is on the rise in Germany, around 1,500 incidents were reported in 2017. Police still attribute the vast majority of these attacks to far-right and in some cases far-left groups, but they also say that there is growing resentment from people who conflate criticism of Israeli politics with resentment towards Jewish people. There has also been a growth in the number of attacks committed by migrants, especially by individuals coming from Muslim countries where there is anti-Jewish or anti-Israeli cultural sentiment. The reported incidents include verbal and physical attacks as well as attacks on property belonging to Jewish families or communities. Many incidents, especially verbal abuse, also go unreported so it is not always easy to get an idea of the real scale of the issue.
What is being done to stop it?
The government has said that anti-Semitism will not be tolerated and have hired diplomat Felix Klein to the new post of "anti-Semitism Commissioner" to address the problem. The interior ministry demands that migrants who commit anti-Semitic attacks be sent back to their countries of origin and there is also a push for police and authorities across Germany to better identify and punish such violence. Members of the Jewish community and indeed the leaders of the Muslim and Christian communities in Germany, who have also condemned anti-Semitic attacks, say more needs to be done on a local level to get to the root of the causes of anti-Semitism. They say that religious tolerance should be taught in schools, religious communities and be a topic included in integration courses for migrants arriving in Germany.