Afghanistan: dozens killed and hurt in Kabul voter centre blast
Comments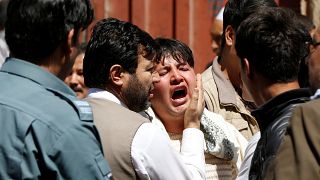 -
A suicide blast in the Afghan capital Kabul has left at least 31 people dead and 54 injured, according to a health ministry spokesman.
Sunday's attack at a voter registration centre was carried out by a bomber wearing an explosive vest. The victims had been queuing up to receive identity cards, officials said.
The so-called Islamic State carried out the attack, the militant group's AMAQ news agency said, without providing any more details or evidence to support its claim.
The explosion, which destroyed cars and blew out windows in nearby buildings, happened in an area of western Kabul where many members of the mainly Shi'ite Hazara minority live. The district has repeatedly been hit by attacks claimed by ISIL.
It is the most serious attack in Kabul since about 100 people were killed in January by a bomb hidden in an ambulance.
An Interior Ministry spokesman said the bomber approached the centre on foot, where officials had been issuing identity cards as part of the registration process for an election scheduled for October. Security measures, tightened following the January attack, failed to prevent the blast.
"There were women, children. Everyone had come to get their identity cards," Reuters quoted eyewitness Bashir Ahmad as saying.
Another bomb, planted by the road near a voter registration centre in the northern city of Puli Khumri, killed six members of a family and wounded three other people as they drove past the site. There was no indication the attacks were linked.
The registration process for millions of voters is vitally important for President Ashraf Ghani's Western-backed government, which has pledged to hold parliamentary elections this year ahead of a presidential vote in 2019.
UN figures say more than 750 people have been killed or maimed in suicide attacks and bombings by militant groups in Afghanistan during the first three months of the year.