Contrasting views of Hungarians after the election result
Comments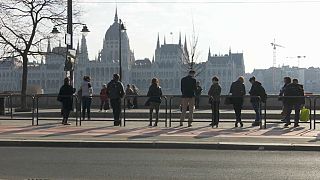 After Hungary's Sunday night election and the sweeping victory for the ruling Fidesz party, Hungarian's are saying, the city of Budapest and the countryside are different worlds.
Most people living in the capital are in deep shock while residents in rural areas are satisfied with the result.
"I am depressed. I thought they would win by a majority, but the two thirds majority is surprising for me."
"The communication of Fidesz was so strong in the last year that it can hardly be surprising."
"I am absolutely satisfied and I don't understand why the opposition is not able to hear that people don't want to change the government here."
"This election, which was built on dominating the media and spreading fake news by the government, proved to be successful."
Traditionally, Budapest is the stronghold of the left and that the countryside is more right.
But the people in the countryside, with a disappearing infrastructure, are more or less happy with the election outcome.
Attila Juhász, senior analyst of Political Capital: "The Jobbik couldn't make it in the countryside, so Fidesz remained the savior."
Viktor Orban's campaign against Muslim migration into Europe resonated with more t han 2.5 million voters, especially in rural areas.
Veronika Rippel, Euronews says: "The results of the Hungarian elections show that the gap between Budapest and the countryside is deep and this situation will become worse in the coming years."