Multi-billion euro pile of unsold clothes at H&M
Comments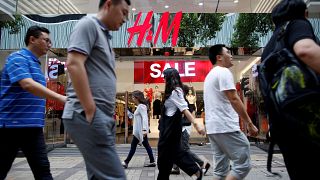 Swedish fashion clothes shop H&M is struggling with a multi-billion euro pile of unsold clothes.
There are so many that a power plant in Vasteras, the town where H&M founded its first store, relies partly on burning defective products the retailer cannot sell to create energy.
Signs of its expanding unsold inventory began emerging last year, when it reported an unexpected quarterly drop in sales.
The company said operating profit fell 62 percent in the three months through to February.
Since the early 2000s, business has largely boomed for fast fashion retailers such as ASOS, H&M and Inditex, which owns Zara.
They have grown on their ability to generate, on a vast scale, rapid reproductions of runway fashions into low-priced clothing and accessories.
In the digital era, the challenges around selling trendy clothing before it goes out of style have mounted, particularly as growing numbers of shoppers choose to buy from smartphones and have become more quality conscious.