Greenpeace Hungary's floating protest against nuclear power plant
Comments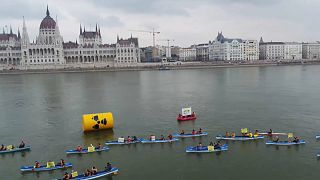 Protesters in Hungary floated a symbolic inflatable nuclear barrel down the river Danube in Budapest to highlight the problem of radioactive waste. The government is planning to build a Paks II new nuclear power plant but Greenpeace says the issue of waste is still unresolved.
"Our organisation finds it highly irresponsible that the government wants to expend a nuclear plant but there are no sustainable solutions for managing the waste it produces," said András Pergel, an activist for Greenpeace Hungary. "It is even more worrying that the authorities stay silent concerning this problem."
25,000 people have signed a petition calling on the Hungarian government to stop the  project, calling it reckless when a solution to the problem of waste hasn't been found. Under present technology the waste would have to be stored for 250,000 years until it becomes safe.
Greenpeace Hungary also claims the plant would be economically unviable.
According to EU legislation, radioactive waste generated in Hungary has to be disposed of within the country. Buyt In the interstate contract of Paks II between Russia and Hungary, Russia undertook that Hungary may send the spent fuel to Russia for interim storage or reprocessing for the time during which Hungary buys the nuclear fuel from Russia. This, however, would not mean a ultimate solution: spent fuel - or, in case of reprocessing, the highly radioactive waste remains of the process, would be sent back to Hungary.
Greenpeace Hungary, is urging the Hungarian government to immediately shut down the Paks II project, and to start establishing an energy system based on renewables.