Colombia's ex-FARC rebels face heavy defeat in elections
Comments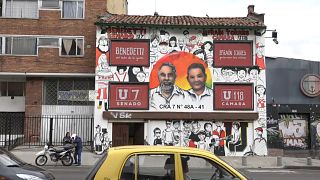 Colombia's former rebel movement, FARC, is facing heavy losses in legislative elections. It needed to win over a hostile electorate who some say are resentful many of the group's former commanders are not in jail for human rights abuses.
Martha Lucia Marquez, director of the Pensar Institute at Javeriana University in Bogota, says the right wing coalition rejects the peace accord while the left wing coalition defends the agreement.
"What the experts say is that accords are bullet proof, but it doesn't mean there can't be initiatives to obstruct some of the measures relating to their implementation," she explains.
Farc had previously temporarily suspended its election campaign, saying its candidates were the target of right-wing elements determined to block its entry into electoral politics.
Victoria Sandino, former FARC commander and senate candidate explains: "There were WhatsApp chains. People gave their personal data. They were picked up to take them to events and given one day's salary in exchange for sabotage and provocation to start with, but later they used stones, sticks and bottles."
The former rebels have concentrated their campaign efforts in rural areas, but are trying to win over Colombians in places where they have previously never campaigned, such as theatres and bars.
Any place, they say, is a valid one to look for reconciliation.
"Now we have have to carry out an educational campaign in distinct sectors, so we can meet peope and they can get to know us," says Victoria Sandino.
Euronews correspondent Héctor Estepa says whatever the result of the election, Farc will be in Congress next term. The Havana Pact grants them five seats in the lower house of representatives and another five at the Senate. They have renounced, however, their presidential aspirations, because of the health problems of leader, Timochenko.