Italy prepares to vote after divisive race
Comments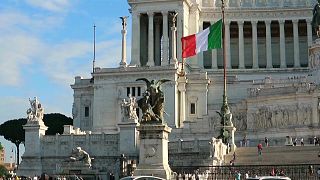 Italy heads to the polls this Sunday for an election expected to go to the wire.
A hung parliament remains the most likely outcome with no political party or coalition appearing to have enough support to win a clear majority.
In Rome, some voters still don't know who they will choose.
"I have not decided. I am so confused. I go and I vote, but I really don't know which is the right vote for Italy,"one woman said.
Another man said: "We hope that there is a little bit of order in the country. This is our hope. I think a lot of people, Italian people, have the same idea."
On Friday, all Italy's major parties held final campaign rallies.
The comeback kid of Italian politics, former Prime Minister Silvio Berlusconi, is barred from holding public office, but polls suggest his centre-right alliance, which includes La Lega run by Matteo Salvini, could become the largest bloc.
Another populist party which could see a surge in support is the anti-establishment Five Star Movement led by 31-year-old Luigi di Maio
Another former prime minister - Matteo Renzi - is spearheading the centre-left Democratic Party's challenge.