Theresa May bids to overcome Brexit divisions at Chequers hideaway
Comments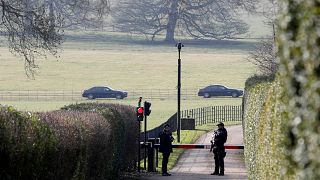 Theresa May has been holding a "behind closed doors" meeting with senior ministers to try to thrash out a common stance on her Brexit strategy.
The British Prime Minister is no doubt hoping that the "Brexit awayday" at her residence at Chequers will put an end to the divisions that have tormented her government and the ruling Conservative party – and marred negotiations with the European Union.
The reunion of May's so-called "Brexit war committee" at the 16th century country house is expected to continue late into Thursday evening.
Twenty months after the EU referendum, May's government has yet to put flesh on the bones of her vision for future relations, with ministers at odds over the extent to which the UK should remain tied to EU rules.
However, it is far from certain that even a compromise agreement would be acceptable to Brussels negotiators or EU27 countries. Sources have poured cold water on the prime minister's proposal for managed divergence from the bloc's rules as "cherry-picking".
May's spokesman appeared unmoved, saying "we're in a negotiation".
May is under pressure from hardline Eurosceptics in her party. The prime minister's acceptance of a status-quo transition period after Britain leaves the EU in March 2019 have been described as a "betrayal".
The head of the pro-Brexit European Research Group of Conservative MPs, Jacob Rees-Mogg, interpreted government plans as a "perversion of democracy", insisting Britain must be able to sign trade deals during a transition.
May's office insists it has been long government policy to be able to agree and sign such deals during a time-limited period to cushion the UK's departure.
The cabinet's divisions over Brexit are mirrored across Britain where the debate over plans to leave the EU has become increasingly angry and divisive.
"The British government is currently halfway through a series of speeches called the road to Brexit," said Euronews' UK correspondent Vincent McAviney, reporting from London.
"Foreign Secretary Boris Johnson, Brexit Secretary David Davis and the Prime Minister Theresa May have all made speeches in the past fortnight outlining their vision of a 'Global Britain'. But what they haven't made clear yet is the relationship they want the UK to have with the EU. There's been talk of 'regulatory alignment', 'Canada-plus-plus', and even 'a' customs union not 'the' customs union. They've decided though they finally have to make a decision."