Van catches fire and ploughs through Shanghai pedestrians
Comments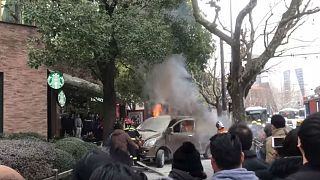 Copyright

Youtube/Yao Jeremy
A van injured 18 people after catching fire and ploughing into pedestrians in a busy part of Shanghai, China, on Friday, according to authorities.
Videos on social media show bystanders watching as firefighters work to put out the blaze.
The fire was caused by the van's driver, who was smoking a cigarette inside the vehicle, said the Shanghai public security bureau on its Weibo feed.
The driver, who is currently receiving treatment, is suspected of transporting illegal substances.
The Shanghai government said in a statement the vehicle injured 18 people — three of them seriously — near People's Square.
The Shanghai-based news website, The Paper, cited witnesses that saw the van was on fire as it drove onto the pavement, knocked people down and came to a stop in front a Starbucks coffee shop.
Witnesses also told the news outlet that there were gas cylinders in the vehicle.
The incident coincides with a visit to the city by British Prime Minister Theresa May.