EU Commission promotes financial technology to bypass third parties such as banks
Comments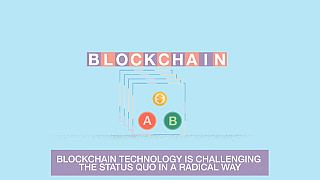 The EU is promoting the development of a new technology aimed at transferring money digitally via a transparent online ledger that everyone can keep track of.
That way it's hoped trust in transactions will come from the online community and theoretically, at least sideline third parties such as banks.
Blockchain's appeal for data sharing is threefold.
Its ledger, or database, is not controlled by any single party and is spread across multiple computers, making it hard to break. 
Once entered, any information cannot be altered or tampered with. And, by using so-called smart contracts, the owner of information can easily tweak who has access to what.
It's a sign of how far blockchain technology has come within a decade since the publication of a pseudonymous paper describing bitcoin and the blockchain ledger that would record transactions in it.
Governments are already exploring ways to store some data, such as land records, contracts and assets, in blockchains, and the financial industry, too, has experimented with blockchain technologies to streamline transactions and back-office systems, though with limited success.