Brexit gave Europe courage to move forward, says Merkel
Comments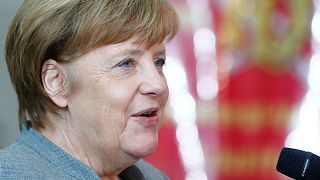 Germany's Chancellor Angela Merkel used her speech at the World Economic Forum to claim Brexit has given Europe the courage to move forward.
Speaking at the global talk shop in Davos, Switzerland, she also said isolationism and protectionism were not the answers to solving the world's economic problems.
Later today, French President Emmanuel Macron will address the forum, which you can watch live on Euronews.
The WEF is an annual get-together for the world's rich and powerful.
It is attended by thousands of delegates, including business leaders, activists, campaign groups, entrepreneurs and politicians.
Watch Merkel's speech again in full