Tap to donate: French church to take contactless cards for donations
Comments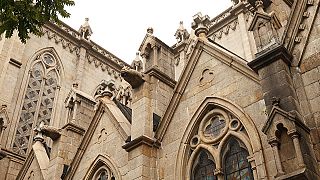 The new move by the church in Saint-François de Molitor is also gaining popularity in other parts of Europe.
It will leave worshippers without the traditional excuse of having no cash in their pockets.
Churches in Paris and elsewhere have taken a hit by the increasingly cashless world, with traditional donations reportedly stagnating to just €3 a year per person, money that goes towards expenses such as heating and electricity.
But the parish priest of the church in question, Father Didier Duverne, has denied the move is about making money. He told Le Parisien: "It amuses me, it's fun. Our parishioners are receptive to novelty. The interest is not economic."
This new modernised version of the ancient ritual of collections at mass begins in Saint-François de Molitor next Sunday. Catholic authorities say the conversion to contactless payments will be followed by others in the region.
The governing body of the Catholic faith in Paris told Reuters; "The outlook is clear: banknotes and coins are used less and less by the new generation. People accustomed to payment via card or mobile phone often ended up fumbling in empty pockets when the collection bowl comes their way".
With the average donation of €98 a year per worshipper at stake, the move has been made. It also said; "Faced with this development, the Church has chosen to adapt to new technologies and creative innovations."
France follows example of UK churches
Elsewhere in Europe, there's been further evidence religious authorities are taking steps to preserve their valued source of revenue.
In the UK, 60 churches have been taking part in a trial of contactless payment terminals since July. The country's cathedrals are also trialling "donation stations", with five installed in Romsey Abbey, Ely, Guildford, St Edmundsbury, and Newcastle Cathedrals, in November and December.
The Dean of Newcastle, the Reverend Christopher Dalliston, was reportedlythe first to donate £5 to the cathedral via the new terminal, which was installed on 20 December.
As reported by The Church Times, a spokeswoman for Newcastle Cathedral said the pilot was already showing signs of success. She said; "We absolutely love it. It was an easy process to install, so easy to use, and, though it is too early to see whether donations will increase significantly, we have counted more donations than usual since it was installed."
She also said the idea particularly suits larger churches that attract more tourists. "We have had positive feedback from the congregation and visitors, who say it is easy to use and not 'in your face'.
**Contactless payments in Chinese temples too **
The idea's even reached beyond European borders. A Chinese market consultant, Guido Ghedin, while visiting the Tulou buildings in rural Fujian** also came across contactless "donation stations". **
He posted his findings to his followers on Linkedin, with visitors encouraged to scan the provided QR code and offer money to the temple via the mobile app WeChat.** **