Prosecutor wants 19 women to testify at Bill Cosby retrial
Comments
By Tracy Connor with NBC News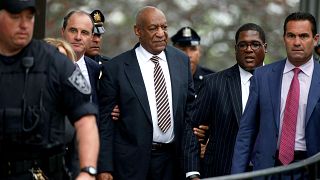 Copyright

Brendan McDermid Reuters file

-
Before Bill Cosby was tried on charges he drugged and sexually assaulted Andrea Constand, prosecutors asked the judge to let them put 13 other accusers on trial to show a pattern of predatory behavior.
The defense objected, arguing it would prejudice the jury. And the judge decided in the end to let just one other woman besides Constand tell the jury her account of being drugged and abused.
The Pennsylvania trial ended with a hung jury. But now, as the retrial approaches — in the midst of a national reckoning over sexual misconduct — prosecutors are making a bold move and asking the same judge to let 19 women testify against the comedian and TV star.
"This evidence is relevant to establish that an individual who, over the course of decades, intentionally intoxicated women in a signature fashion and then sexually assaulted them while they were incapacitated, could not have been mistaken about whether or not Ms. Constand was conscious enough to consent to the sexual contact," Montgomery County District Attorney Kevin Steele wrote in a motion Thursday.
Cosby's spokesman declined to comment.
Dozens of women have accused Cosby of a range of sexual misconduct spanning decades. But only Constand's allegations about a 2004 encounter at his Pennsylvania home resulted in criminal charges and a trial.
Cosby, who denies all the misconduct allegations and has sued some women for defamation, contends his contact with Constand was consensual. She says he gave her pills and then attacked her while she was incapacitated.
During the trial last June, the jury heard from Constand and also from Kelly Johnson, who said she was working for Cosby's agent in 1996 when he lured her to his hotel bungalow and made her swallow a pill; she testified she woke up half-naked in his bed.
Her testimony was a mixed bag for the prosecution. While she was steadfast on the stand in her allegation of assault, defense lawyers attacked her memory lapses and potential discrepancies in the timeline of her dealings with Cosby.
Prosecutors have asked that, at the very least, the judge allow Johnson to testify at the retrial. But they also argue that the other 18 are admissible under a recent appeals court ruling sanctioning the so-called "doctrine of chances," a legal theory that says the more something happens the less likely it is an accident.
Judge Steven O'Neill has ruled that both sides have until Jan. 25 to submit pretrial motions for the retrial starting in April.