Fear as UK Pharmacies run out of flu vaccine
Comments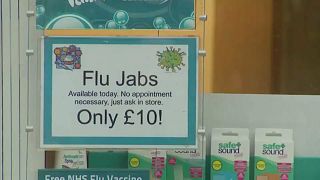 UK Pharmacies are running out of the influenza flu vaccine amid fears of an epidemic.
Public Health England say there have been 93 flu-related deaths so far this winter. They include an 18-year-old girl from Scotland.
Experts are worried about a particular strain of the virus.
The H3N2 strain caused a high number of deaths in Australia in 2017. It's thought this particular virus has caused a number of deaths in Ireland.
Instances of the flu are always worse during the winter.
On its website, Public Health England says: "Practising good hand hygiene and giving eligible people the flu vaccine is the best defence against the virus."