New project launched to maximise space technology and bring it back to earth
Comments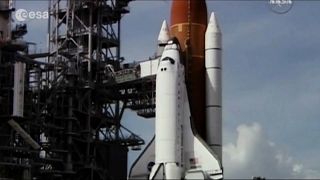 A new project was launched on Tuesday at Portugal's Instituto Pedro Nunes, aimed at taking maximum advantage of space technology right here on earth. Astropreneur is being funded by the EU and backed by the European Space Agency.
0:20 sot (euronews' skype interview) Carlos Cerqueira, Inovation Director at Instituto Pedro Nunes, Coimbra's University, Portugal
"Astropreneur is an acceleration program for the so called space economy," explained the IPN's Director of Innovation at Coimbra University in Portugal. "We'll support startups that use either apps through technology and are developing something for space or 'downstream technology' which means they are using space technology for regular businesses...as this consortium has partners for all over Europe we'll be able to support any start up in any country in Europe."
The idea is to help around 150 startups from all countries in the EU to develop innovative ideas in space exploration, but to also implement that technology in other areas such as wine producing, monitoring coastlines and fires prevention.