Snow and wet weather wreak havoc across Europe
Comments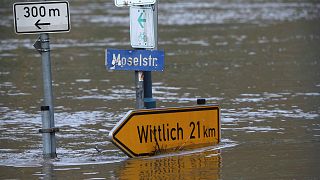 Copyright

REUTERS/Wolfgang Rattay

-
Much of Europe is on high alert this weekend as severe weather wreaks havoc.
In Cervinia in northern Italy, more than two metres of snow fell in a few hours overnight, isolating the city and sparking avalanche warnings.
Several days of heavy, wet snow have already set off one avalanche that killed a German woman and her daughter on an off-piste ski run.
In south-western Germany, heavy rainfall has caused widespread disruption to a number of cities hit by flooding.
The threat of landslides has forced authorities in many areas to issue evacuation orders.
A number of roads have been destroyed and shipping traffic on the River Rhine between France and Germany has been halted because of the high tide.
It's a similar situation in the French capital where heavy rain has caused the River Seine to rise by more than three metres.
With more downpours expected this weekend, officials say they have prepared emergency measures in case of flooding.
Poland, however, is experiencing unusually warm weather that has led flowers to prematurely bloom in parks and gardens across the country because of high temperatures of 10 degrees Celsius during the day.  Normally, January is winter's coldest month. Last year, temperatures dropped to 20 degrees Celsius below zero in Poland.