Ireland and Hungary reject EU-wide tax harmonisation moves
Comments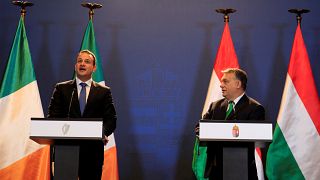 The leaders of Hungary and Ireland have rejected any effort to harmonise corporate and other tax rules across the EU, saying that such moves would damage competition in the single market.
Viktor Orban and Leo Varadkar spoke to reporters in Budapest on Thursday.
"We, Hungarians, believe taxation is an important component of competition. Lowering taxes is generally a good policy," Orban said.
"We would not like to see any regulation in the European Union which would tie the hands of Hungary in tax policy."
Ireland's Taoiseach was just as firmly opposed.
"The European economy is strongest if there is competition among member states, for example competition when it comes to taxation," said Varadkar.
"We share a view, as governments, that we should continue to have competition among members states in terms of tax policy and reaffirmed our shared commitment to tax sovereignty."
Ireland's 12.5 percent corporate tax rate is among the lowest in the 28-member bloc.
Hungary, which relies heavily on foreign investment to power its economy, runs the lowest rate in the EU, at 9 percent.
There have been attempts to harmonise the corporate tax base in the European Union, but those efforts have struggled to make headway as opponents say that would just be a foot in the door, eventually leading to harmonised tax rates.
The EU's tax commissioner Pierre Moscovici said in November that the Commission was considering using extraordinary powers to strip EU states of their veto power on tax matters to break resistance over blocked legislation.
with Reuters