Swiss village votes in favour of paying new residents to live there
Comments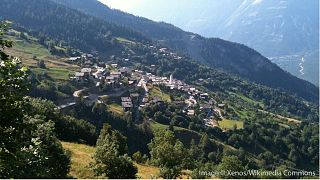 Residents of a Swiss village voted in favour on Thursday night of a proposal that would see a family of four paid 60,000 euros to relocate there.
One hundred of Albinen's residents attended a council meeting to vote on the proposal, with 71 throwing their support behind it, versus 29 against.
The unusual initiative is aimed at revitalising the village, which has seen its population shrink to just 240, with the local school forced to close and many houses used only as holiday homes.
Adults can expect to be offered 25,000 Swiss francs each (21,500 euros) while children would receive 10,000 francs (8,500 euros), a total of 60,000 euros for a family of four.
However, there are conditions attached to the deal.
Prospective residents must be under the age of 45 and be prepared to stay for at least 10 years. The property they buy, or build, must also be worth at least 200,000 francs (171,500 euros), and is required to be their primary residence.
If they fail to stay for the full 10 years, the new residents would be forced to reimburse the money.
Since announcing the plan, Albinen has been inundated with requests from hundreds of people around the world keen to cash in on a move to the picturesque village.
However, local council president Beat Jost said incorrect information in the media had meant many people didn't understand the terms of the initiative, and believed that simply moving to the village was enough to collect the payout.
Albinen's official website says that only one out of every 100 requests it has received could be considered eligible.
It estimates that in the next five years, five to 10 families will benefit from the scheme.