EU-Africa summit leaders back migrant evacuation from Libya
Comments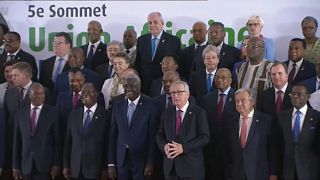 Leaders taking part in the fifth Africa-European Union summit in Abidjan have announced there is to be an emergency evacuation operation of migrants who are threatened by people traffickers in Libya.
It follows reports of white slave traders selling African migrants at markets in the country - an echo of the trans-Saharan slave trade in centuries past - which have drawn worldwide horror.
Soon after CNN aired grainy images from Libya this month appearing to show migrants being sold as slaves, African governments began recalling diplomats from Tripoli.
Protests erupted in France, Senegal and Benin. Ivory Coast President Alassane Ouattara called for Libyan slave traders to be prosecuted by the International Criminal Court.
Leaders from nine European and African countries, including Libya, as well as the UN, the European Union and the African Union, have backed the initiative pushed by French President Emmanuel Macron. They hope the evacuation will take place in the coming days.
The outrage has pushed the migration crisis and all its aspects to the top of the two-day summit's agenda.
Prime Minister of Belgium Charles Michel sought to explain some of the other migration issues needing to be raised at the summit:
"We have to make it easier for people to use legitimate migration channels. For example for students who can then return home having been trained and go on to benefit their own country from that training. But at the same time there are people in irregular circumstances, and for them in Europe we must cooperate over support projects to help with their return to their countries of origin. These migrations are often as a result of insecurity,war or extreme poverty."
Libya has promised to investigate the reports of slavery, but they say blame must also lie with European migration policies.
Euronews reporter Isabel Marques da Silva said the leaders have insisted the summit is not just about migration but the theme is shaping all other discussions about security and economic development and that any roadmap that comes out of this summit will guide relations between the two continents until 2020.