Humanitarian aid reaches Yemen as crisis worsens
Comments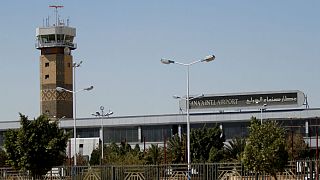 Aid has finally started to arrive in the Yemeni capital Sanaa, where a humanitarian crisis is threatening the lives of millions of people, many of them young children.
The flights carrying medical supplies and aid workers that landed on Saturday were the first allowed in nearly three weeks, since a blockade imposed on the war-torn country sparked an international outcry.
The Saudi-led coalition fighting Houthi rebels in Yemen says it wants to stop them receiving arms from Iran. But under international pressure, it has now allowed United Nations flights in and out of the capital.
One flight carried workers of the International Committee of the Red Cross, while the UN's children's fund (UNICEF) said another carried over 15 tonnes of vaccines that will cover some 600,000 children against diphtheria, tetanus and other diseases.
.UNICEF</a>'s chartered flight just brought in over 15 tonnes of the most needed lifesaving Penta, BCG and PCV vaccines to protect about 600k children from diphtheria, tetanus, etc. The needs are huge and there is much more to do for<a href="https://twitter.com/hashtag/YemenChildren?src=hash&ref_src=twsrc%5Etfw">#YemenChildren</a>.<br> <a href="https://twitter.com/hashtag/Yemen?src=hash&ref_src=twsrc%5Etfw">#Yemen</a> <a href="https://t.co/ezgGKQ1gi6">pic.twitter.com/ezgGKQ1gi6</a></p>— UNICEF Yemen (UNICEF_Yemen) November 25, 2017
Aid desperately needed
The US-backed coalition said earlier in the week it would also allow aid in through the Red Sea ports of Hodeidah and Salif, but officials on the ground said there was no sign of any ships docking there anytime soon.
International aid groups have warned that flights are not enough to avert a humanitarian crisis. About 7 million people face famine in Yemen and their survival depends on international assistance.
Medical supplies are running out, and doctors say the few hospitals still operating in the capital are on the verge of collapse.
In al-Thawra hospital, patients lie on gurneys at the edge of a crowded ward as they wait for treatment.
Its director says the hospital is struggling to treat patients, including babies in neonatal intensive care unit and patients with kidney failure who need lifesaving dialysis treatment.
Yemen also crucially needs water pumps to help stem a massive cholera outbreak, and fuel to transport food and goods.
Today: ICRC_ye</a> and others unable to find fuel needed to keep water flowing in <a href="https://twitter.com/hashtag/Yemen?src=hash&ref_src=twsrc%5Etfw">#Yemen</a> cities. Blockade keeping all fuel from reaching. Letting aid in is only a part of the solution. Commercial imports are desperately needed. <a href="https://t.co/N6KtmEELbQ">pic.twitter.com/N6KtmEELbQ</a></p>— Johannes Bruwer (JohannesBruwer1) November 24, 2017
More than 10,000 killed, millions displaced
The coalition closed air, land and sea access to Yemen on Nov. 6, after Saudi Arabia intercepted a missile fired toward Riyadh. Iran has denied supplying weapons to the Shiite Houthi insurgency.
The blockade has sparked widespread international concern, including from the United States and the United Nations secretary-general.
The heads of three UN agencies have warned that "untold thousands" would die if it stayed in place.
Yemen's two-and-a-half-year war pits a Shiite rebel group, known as the Houthis, which controls much of northern Yemen, against an internationally recognised government that has the backing of Saudi Arabia and several other key Persian Gulf states.
Riyadh joined the Yemen war in March 2015, after the Houthis forced President Abd-Rabbu Mansour Hadi and his government to flee into exile in Saudi Arabia.
The conflict has killed more than 10,000 people, displaced millions, caused a devastating cholera epidemic, and driven the country to the brink of famine.
"If the ports do not re-open across the board for humanitarian and commercial shipments, we really are looking at a catastrophic deterioration of the situation and creating a humanitarian crisis of proportions that I think we've not seen in our lifetimes", Paolo Cernuschi, country director for the International Rescue Committee in Yemen, told Euronews in an interview on Friday.
Famine can amount to a crime against humanity if food restrictions are used as a weapon, according to UN officials. https://t.co/3h1hjaOn3z

— The New York Times (@nytimes) November 25, 2017