Russians reflect on the centenary of the revolution
Comments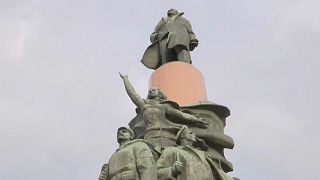 Some say it's an event to be celebrated, others a tragedy. A hundred years ago Vladimir Lenin led the Bolsheviks in the second of two revolutions in Russia that year. The royal family was ousted and later murdered, borders were redefined and a civil war was triggered that would kill millions.
A century on, Russians are reflecting on events. Last month (October, 2017), President Vladimir Putin made a rare comment condemning revolution as a political tool.
"When we look at the lessons from a century ago, we see how ambiguous the results were, and how there were both negative and positive consequences of those events. […] We have to ask the question: was it really not possible to develop not through revolution, but through evolution, without destroying statehood and mercilessly ruining the fate of millions, but through gradual, step-by-step progress?" he asked.
Andrei Kolesnikov, an analyst at the Moscow Carnegie Centre, said he didn't think Putin would celebrate the centenary:
"He will not celebrate this date, this event. He himself is not a great supporter of Lenin, he said it publically."
The president of the American Chamber of Commerce in Russia said the government did not want another putsch.
""The last thing the Kremlin needs is another revolution. The last thing Russia needs is another revolution. And celebrating the revolution saying: 'Hey, what a great thing!' is a little bit encouraging what they (authorities) don't want, and so they are definitely confused."
Activist Dima Litvinov's great grandfather was both Lenin's and for a time Stalin's foreign minister…
"I think that he [Maxim Litvinov], would be horrified by the extreme nationalism and religious intolerance that is going up in Russia. I think he would want to challenge and oppose all of these things."