Jerome Powell named new Fed Chair
Comments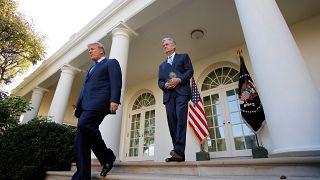 US President Donald Trump nominated Jerome Powell on Thursday (Nov. 2) to be the next head of the Federal Reserve.
The 64-year-old lawyer and former investment banker is currently governor of the US central bank.
In an announcement at the White House, Trump described him as a strong, committed and smart leader.
The decision, which ends an unusually public, months-long search, arguably gives Trump the best of both worlds: It allows him to get a new Fed chief while getting continuity with a Janet Yellen-run central bank that has kept the economy and markets on an even keel.
Powell, appointed to the Fed board in 2012 by then-President Barack Obama, emerged as Trump's choice from a five-person slate of possible nominees that included Yellen, as well as others who would have represented a sharp change in monetary policy.