Erdoğan falls asleep during press briefing with Poroshenko
Comments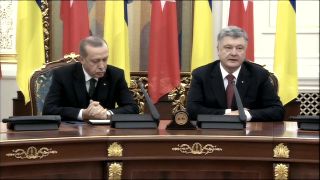 Turkish President Recep Tayyip Erdoğan appeared a little fatigued at a press conference in Kiev with his Ukrainian counterpart, Petro Poroshenko yesterday (October 9).
The Turkish leader, who couldn't stifle his yawns, appeared to fall asleep as many as seven times while Poroshenko made a statement at the Presidency Office.
Poroshenko's attempts to wake Erdoğan by knocking on the table were fruitless with the Turkish leader dozing off again shortly after.
Erdoğan's visit to Ukraine comes as tensions flair between the US and a Turkey with both countries mutually scale back visa services yesterday.
During his speech in Kyiv Erdoğan called the US decision to suspend visa services in Turkey was upsetting.