Regional president speaks in a room decorated by Saint George killing a dragon.
When the Spanish King Felipe wanted to issue a dressing down to the Catalan authorities over their decision to hold an independence referendum he used as a backdrop an ancestor famed for repressing the regional language.
Spanish king's speech on Catalonia featured painting of ancestor who imposed Spanish language -carrying a truncheon. https://t.co/oVtvaO1zbkpic.twitter.com/I3dnp1MSzU

— euronews (@euronews) 4 de octubre de 2017
As an added extra, positioned just behind the current king's head, were the hands of Charles III, gripping what appears to be a wooden truncheon.
So when the Catalan president Carles Puidgemont issued his response, a day later at exactly the same time as his monarch had spoken, it probably wasn't a coincidence that he also allowed a historical painting to creep into the shot.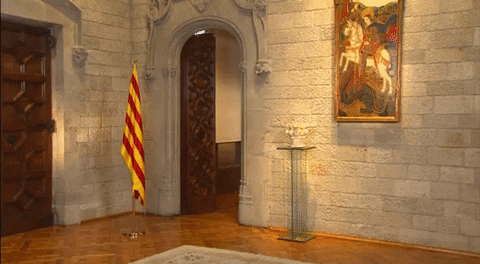 Addressing his audience from a reception room in the seat of the regional government, the Palau de la Generalitat de Catalunya, the president was filmed in a room containing image of Saint George (Sant Jordi) slaying a dragon. According to legend ,the dragon in question had been demanding a heavy tribute from the land, consuming food and even the flower of the population before the saint came along. Jordi is the patron saint of Catalonia.
.KRLS</a> farà una declaració institucional, a les 21 h al Saló Mare de Déu de Montserrat. Atents al quadre que potser tindrà darrere <a href="https://t.co/KOnygnMt43">pic.twitter.com/KOnygnMt43</a></p>— Barcelona Singular (Bcnsingular) October 4, 2017
According to legend, Jordi saved a princess by killing a dragon with his spear. Where the dragon's blood touched the ground a rose bush grew up and Catalans remember the saint's day on April 23rd by offering each other roses.
Puidgemont addressed King Felipe directly, criticising the intransigent approach adopted by Madrid and calling for dialogue. Some social media users highlighted the fact that he spoke in front of an open door and in contrast to his monarch chose a spot where the painting would not be visible during his address.
Un rey con un palo Vs una puerta abierta. pic.twitter.com/6LxdlY7NxA

— Antonio Maestre (@AntonioMaestre) October 4, 2017
So while dialogue between the two sides may seem a long way off, there are nevertheless plenty of messages being passed each way.
Sant Jordi killing the dragon. Anonymous, XV – XVI Century. Courtesy: Palau de la Generalitat.
Click for higher resolution