The supermarket that sells what others throw away
Comments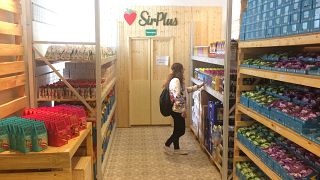 Picture this: you're strolling along one of the main shopping thoroughfares in Berlin's Charlottenburg neighbourhood. You enter a supermarket called SirPlus. Towering shelves of fresh produce line the walls. You pick up a few things and head to the cash register, where you pay much less than you would at your typical supermarket chain. So, what's the catch?
Congratulations: you managed to intercept your dinner just before it was about to head into a dumpster. This is the concept behind SirPlus: the store buys supermarkets' surplus food which otherwise would have been thrown out, and sells it at a steep discount — between 30 and 70 percent off its normal price.
Raphael Fellmer is one of the three friends — alongside Martin Schott and Alexander Piutti — who founded SirPlus via a 100,000 euro crowd-funding campaign and a sizable loan from an angel investor. "It's a win-win situation for everyone," says Fellmer. "The food we save normally would cost the company money to dispose of, so we save them the disposal costs," he says. "It's also an ethical decision for them to say, 'even if we cannot sell it, it's still edible, and we want to be sure it's eaten.'"
SirPlus, he says, is a natural extension of the food sharing movement. The grassroots movement connects individual volunteers with small-scale businesses which have extra food they need to get rid of. "Food sharing was kind of a niche thing for people who have time to go to supermarkets and sort out the bad food, take the good food and share it," he says. "Now we want to make food sharing mainstream. We give everybody— consumers, businesses, suppliers — the chance to work together to reduce food waste."
One of SirPlus' biggest partners is METRO, Germany's biggest retailer. "We see SirPlus more as a complementary business serving a different customer group with different demands than we do," says Guido Mischok, a regional manager at METRO. "The reduction of food waste along the value chain is one of our corporate goals… our target is to halve food waste in our own operations by 2025."
Usually excess food from METRO is offered first to food banks like Germany's Tafel. SirPlus purchases the food which is not donated to traditional food banks in for particular reasons or in specific cases. "Cases include deposits, best before dates, unsuitable food/quantity for private consumption, or simply because the Tafel doesn't have the capacity to take on any more food," says Mischok. SirPlus operates its own refrigerated vehicle, and is able to pick up food at two METRO stores in Berlin twice a day, six days a week.
The problem of food waste is not a new one, but it is growing: the Food and Agriculture Organization reports that up to one third of all food produced is spoiled or squandered before it's consumed. In the EU, around 88 million tonnes of food is wasted every year, with associated costs clocking in at around 143 billion euros. "If food waste was a country, it would be the third largest CO2 emitter in the world after China and the U.S.," says Fellmer.
Stephanie Wunder is a senior fellow at the Ecologic Institute EU. She says that while businesses like SirPlus are great for raising awareness of food waste, they're not tackling its root causes.
"Initiatives like SirPlus are starting at the last part of the food supply chain — governments and retailers don't pay anything for initiatives like this," she says. "It's easy for a retailer to give this stuff away. Retailers could actually sell it, but it's time- and cost-intensive, so SirPlus is solving the problem for free."
But until the retailers take the responsibility for food waste into their own hands, the future of SirPlus is bright: Fellmer, Schott and Piutti see SirPlus as a solution that can grow to address the problem of food waste. The team is looking for another angel loan to be able to open new stores and establish a franchise system next year. Fellmer says it's solutions like these that "will make food sharing really scalable."
By Michaela Cavanagh