There's only one subject in town in the Spanish capital.
More than 600 kilometers separate Madrid from Barcelona, but the preshocks from Sunday's planned independence referendum in Catalonia are already being felt in the Spanish capital.
The proof is evident in the Spanish flags placed in the last few days in many windows and balconies, a spontaneous gesture against the referendum – a vote declared illegal by the Spanish Constitutional Court.
On Thursday, the regional premier, Cristina Cifuentes from the ruling conservative – Popular Party (PP) seized the initiative and ordered the national flag to be hoisted outside all of Madrid's government buildings "in defense of the unity of Spain," she said on her Twitter account.
? La ComunidadMadrid</a> con la Constitución y el Estado de Derecho, por la unidad de España, la democracia y la convivencia. <a href="https://twitter.com/hashtag/VivaEspa%C3%B1a?src=hash&ref_src=twsrc%5Etfw">#VivaEspaña</a> ????? <a href="https://t.co/YnqIcRDewX">pic.twitter.com/YnqIcRDewX</a></p>— Cristina Cifuentes (ccifuentes) September 28, 2017
Cifuentes rejects suggestions that the move will increase political tension, but her decision has been harshly criticized by political rivals: "The Spanish flags on private balconies are the reflection of the freedom of expression but what the Popular Party is doing: to politicise the flag and to usurp a symbol that belongs to us all is a very different thing. You do not become a better Spaniard by trying to repress what will happen in Catalonia, " warns Lorena Ruiz-Huerta, spokesperson for the left wing Podemos party at the Madrid Assembly.
Podemos is the only national party that supports the consultative vote of October 1, and even then the backing is not unconditional: it is in favour of Catalan citizens' right to decide, but opposed to an eventual unilateral declaration of independence.
"We are not ambiguous nor have we moderated our position in the last days. We are not an independentist party and we do not want Catalonia to leave Spain, but the Catalan people should be able to speak in a legal and binding referendum. That is why we believe that the mobilization of next Sunday is very important and should be heard by the Spanish government," says Ruiz-Huerta, before clarifying: "Unfortunately, that referendum will not be able to meet the necessary conditions and the guarantees to obtain a valid result because the Spanish security forces and government will try to prevent people from voting. "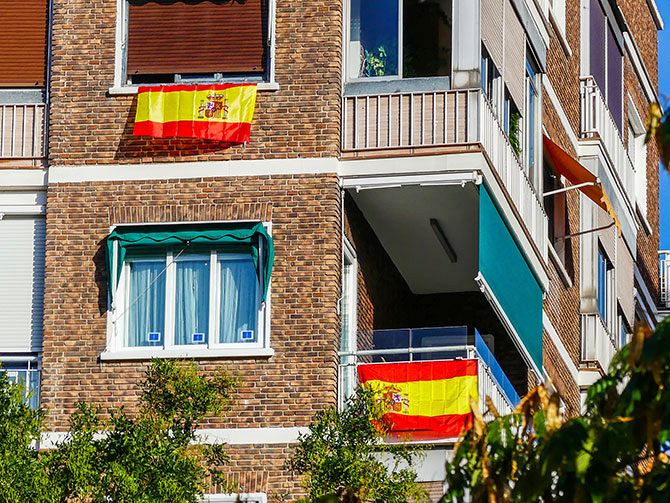 Photo: Manolo Martín-Corral
According to the polls, most of Podemos' voters support the right of Catalans to vote. However, the same surveys indicate that more than 60% of Spaniards believe that the consultation on Sunday should be blocked.
Such divisions are evident on social media: one day there are calls in Whatsapp for a boycott of products made in Catalonia and the next Twitter burns with a video shared by the ruling Popular Party in which Catalan leaders are accused of Hispanophobia.
"We should have removed Catalonia autonomy thirty years ago because the only thing they want is more and more, they do not want to share anything with the rest of Spain, they don't show solidarity" argues Arturo Gonzalez, owner of a small company. Alongside him, Maria Lopez offers a more moderate perspective: "I am against the referendum, I think the country should remain united, but there is so much manipulation on both sides that you no longer know what to think."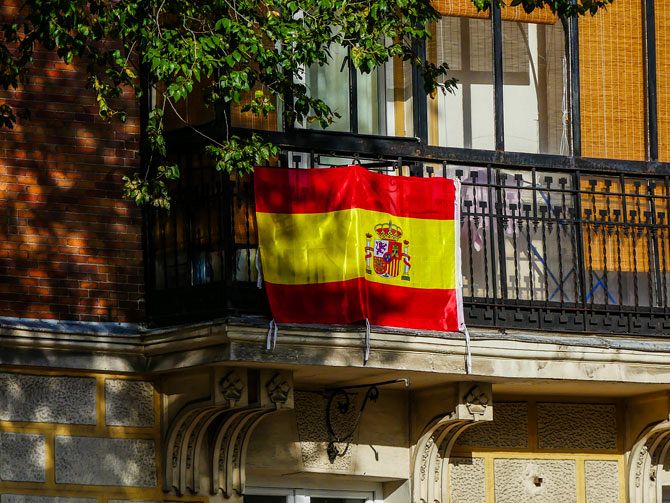 Photo: Manolo Martín-Corral
For the last few weeks it has been impossible to spend a whole day without the Catalan crisis arising in conversations at the workplace, on the bus or in family gatherings as Jose Guerrero can testify. A journalist born in Barcelona, he has lived in Madrid for almost 20 years. In his opinion, the Madrilenians "are in general very critical of what the Catalan government is doing, what most irritates them is the disregard for legality. They do not want Catalonia to become independent and they cannot believe the possibility that on October 1 there will actually be a referendum. "
Of course, not everyone shares this position. M. Vélez, who prefers not to give his full name, is one of those who is in favor of a "legal and binding consultation. Until this happens, right-wing parties of both sides will manipulate the situation at their convenience, covering up the very serious corruption cases that surround them. Viewed from an electoral perspective, this situation it is very profitable in both Madrid and Barcelona. "
Estela Celada for euronews