A hidden movie set in the Paris metro
Comments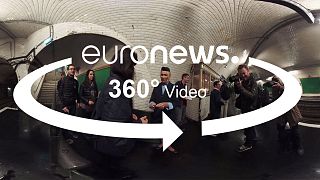 Amélie; Female Agents; Point Blank.
This is the Parisian subway of the movies.
Porte des Lilas station was closed in 1929 but since the 1970s more than a dozen films have been shot here every year.
For the first time since 2012, RATP, the Paris underground operator, has opened this hidden treasure for the European Heritage Days.
"The directors come here for two things: firstly it is comfortable to work here and you can even change the decor if you want, says a guide.
"Secondly they can control the trains with teams of subway drivers who drive the trains and technicians, who manage the power supply of the tracks
"It's easier to shoot here than anywhere else."
Here, the trains that work are used only as decor: the cinema station is independent of the metro network. There are a handful of ghost stations in the Paris underground such as Porte des Lilas.
This is the case with Haxo, which has never been opened to passengers … nor to directors. Here, the abandoned platform is too cramped and dangerous for film productions.
Returning to the movie theater metro. Unlike the classical metro, directors are free to do whatever they want in the carriages and on the platforms. Without the RATP having a say in the matter.
"We are not going to distort a film because RATP wants the stage to be clean and the characters behave in an exemplary manner.
"These are not RATP promotion films These are films with a Parisian setting, basically giving a history of Paris.
Authentic, but not free: producers pay around 15,000 euros for 10 hours of shooting.