German Election 360°: The digital dilemma
Comments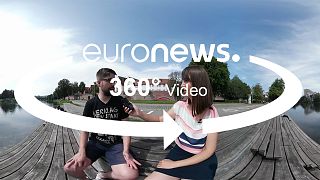 *This is one of nine episodes we are publishing ahead of the German elections. Two episodes a week will be published until September 24, the date of the federal elections.*
Stefan Kaufmann Open data activist: "My name is Stefan Kaufmann. I am 32 years old. For several years I have been an activist for open data, free knowledge and transparency. Right now I am project manager here in Ulm and I am trying to get the Verschwörhaus started."
Christine Liebhardt, Südwest Presse: "What does saving the world with code entail?"*_
SK: "The idea behind this is to ask yourself what are the problems in society and then to try to solve them with an app or a piece of hardware. The aim is not to invent something that you can sell later on, the aim is not to make money, but to find out, what do people, and especially those who are most vulnerable, need."
CL:*"So this is quite anti-capitalistic."*
SK: "I would say emancipating."
The Verschwörhaus goal is "Digitalisation for everyone". They offer workshops, beginner courses on open data and hands on activities. Creativity goes beyond the computer screen and includes working with wood, metal, 3D printing and sewing.
CL:*"Many have the impression that the German election campaign is quite boring. Is that a good or a bad sign?"*
SK: _*"You could see it as a sign, that Germans are happy and that there are no problems, but that is not the case. There are many problems in the world for which Germany is in part, responsible.
"For me this un-driven election campaign, where no one has any visions for the future or is presenting any utopias that are worth defending or working for, can also be quite dangerous.
"A great coalition seems inevitable and therefore many have the impression that the decision to vote for one party or the other, doesn't make any difference. There is the danger that people lose interest in politics and start retreating and concentrating on their private lives. And that politicians do what they want anyway. And this idea fuels extremism, especially the extreme right."
"Germany and Baden-Württemberg are both very rich. The economy is in very good shape considering the economic problems and challenges world wide. But this is also a weakness.
"The well-being and the fact that it is going well, leads to a certain inertia or apathy and also to a reluctance when it comes to change and a reluctance when it comes to the promotion of innovation, to ensure that all the people are better off."
CL:*"Where should money be spent? Which projects should be funded?"*
SK: "Infrastructure, Education and a better life for everyone ! No, well Germany lags behind with broadband deployment. It's quite incredible. We cannot continue exchanging data in the future through copper wires.
"Then when it comes to education, you always hear that the next generation is going to carry on the wealth and so on. But on the other hand the measures are not thought through and there is no will to really promote education.
"And last but not least we don't have to let people drown at the outer borders of the EU. We have enough money, to ensure that everyone, who is in Germany or who wants to come to Germany, has a decent home, regardless of whether they were born here in Germany or not."
CL:*"What are you expecting from the new government ?"*
SK: "I would like to see a true commitment to transparency and a state that is open and that is not only posing as a security state, who protects its citizens no matter what. A state that says we are opening up and we are diminishing the differences in power and influence.
"A state that stands up for freedom of information, that enables all the people to participate and which promotes the local governments, so that they can improve broadband deployment and education for example. A less authoritarian state and a more participative state, yes participation state."*_
CL:*"If Angela Merkel came to Ulm, what would you show her ?"*
SK: "Funnily enough politicians always have to look at things or are being shown things. So I think what would be nice for Angela Merkel, would be to simply go to the Fischerviertel fisher fertel and sit on the Danube riverbank and be quiet, together."*_
*According to the most recent report of the Swiss "World Competitiveness Center" Germany is, when it comes to digital competitiveness, only on rank 17. Front runners are Singapore, Sweden, USA, Finland and Denmark. According to digital experts, Germany is a digital developing country.*
*One of the problems is the lacking broadband deployment. In an OECD comparison Germany is ranked 28 out of 32.*