United States orders closure of Russian consulate
Comments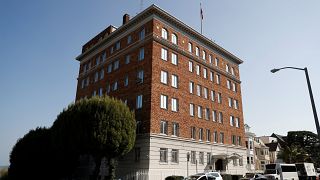 The US has ordered Russia to close its consulate in San Francisco and buildings in Washington and New York that house trade missions.
The announcement is the latest in tit-for-tat measures between the two countries that have helped to drive relations to a new post-Cold War low.
Last month, Moscow ordered the United States to cut its diplomatic and technical staff in Russia by more than half.
Secretary of State Rex Tillerson informed Russian Foreign Minister Sergei Lavrov of the closures in a phone call on Thursday, a senior Trump administration official said.
Lavrov expressed regret about Washington's decision.
Moscow said it will closely study the new measures announced by the Americans.
The two men plan to meet on the sidelines of the UN General Assembly in September,
White House spokeswoman Sarah Huckerbee said: "These closures have to be completed by September 2nd. We've taken a firm and measured action in response to Russia's unfortunate decision earlier this year. We want to halt the downward spiral and we want to move forward to build towards better relations.
"We'll look for opportunities to do that but we also want to have equity in the decisions. And anything beyond that, anything beyond that I would refer you to the State Department."
The latest US move caps eight months of back-and-forth retaliatory measures between the two countries spanning two US administrations.
In December, the administration of Barack Obama closed two Russian countryside vacation retreats in Maryland and New York, saying the compounds had been used for intelligence-related purposes. The closures were part of a broader response, including the expulsion of 35 suspected Russian spies, to what US officials have called cyber interference by Moscow in the 2016 elections. The Kremlin has denied the allegations.
Trump came into office wanting to improve relations with Russia, a desire that was hamstrung by the election interference allegations. The new sanctions passed by Congress conflicted with Trump's goals, but he grudgingly signed them into law this month.
The United States said last week that it would have to sharply scale back visa services in Russia, a move that will hit Russian business travelers, tourists and students.