UK net migration hits three-year low after Brexit vote
Comments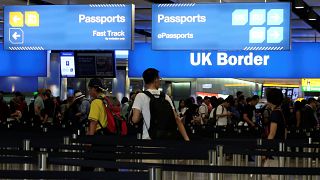 Is this the Brexit effect?
Net migration to Britain has fallen to its lowest level in three years, with more than half the drop down to EU citizens leaving and fewer arriving,
Net migration fell by 81,000 to 246,000 in the 12 months to the end of March.
The biggest fall came among nationals from eight eastern European countries, including Poland and Hungary. Many came to Britain hoping for better paid jobs and an improved quality of life.
Migration to Britain is falling https://t.co/6I7YbqLEBM

— The Economist (@TheEconomist) 24 août 2017
The influx has made it impossible for Britain's Conservative government to meet an election promise to reduce numbers to the "tens of thousands".
Concern about immigration motivated many Britons to back Brexit in June last year. Since the UK's vote to leave the EU, many European migrants have said they feel unwelcome. Others are leaving partly due to the fall in the pound and the EU economy picking up.
Business leaders group The Institute of Directors says, given low UK unemployment, no-one should be celebrating.
With immigration falling by 50,000 & emigration rising by 31,000, this should not be celebrated, says @SNevin1https://t.co/l3p0MqCTRdpic.twitter.com/Fa2FqciNxk

— IoD (@The_IoD) 24 août 2017
"Without the 3 million EU citizens living here, the UK would have an acute labour shortage," the IoD says.
"Signs that it is becoming a less attractive place to live and work are a concern."
Britain has said it aims to guarantee the rights of EU citizens living in the UK, who are particularly important to the economy in areas like construction and hospitality.
with Reuters