Train crash in northern India kills 23
Comments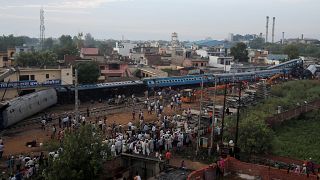 Twenty-three people are dead after a passenger train derailed in the northern Indian state of Uttar Pradesh.
Two of the train's coaches telescoped into each other, while at least four others toppled over after going off the track.
The accident took place near the small town of Khatauli, about 130 kilometres north of New Delhi. The train was headed to the Hindu holy city of Haridwar.
At least 80 people were injured, with some reports putting the figure closer to 125. Passengers described a sudden jerk before the carriages came off the tracks.
Pradeep Sharma spoke to reporters from a nearby hospital, where he was being treated for injuries suffered during the crash: "Both the exit doors were locked. As a result, we tried to come out of the window but we felt electric current in it. We came out after five to seven minutes. I pray to god that I don't have to experience such an incident in my life again."
Rescue operations have ended and an officials say they will open an investigation into the cause of the accident.
Railways Ministry & UP Government are doing everything possible & providing all assistance required in the wake of the train derailment: PM

—

PMO

India (@PMOIndia) August 19, 2017
India's railways carry more than 22 million people a day and often rely on outdated equipment.