North Korea: Warning of 'millions of casualties' in event of war
Comments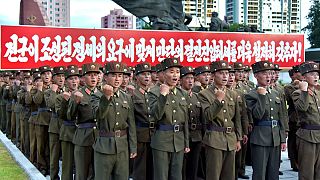 As the rhetoric ratchets up between US President Donald Trump and North Korean leader Kim Jong-un, fears of a conflict are multiplying.
The warning is that any US strike on Pyongyang could provoke a catastrophic response from North Korea towards its southern neighbour.
"Well, with 10,000 tubes of artillery that can hit Seoul without moving, with a million man army close to the demilitarized zone, South Korea is clearly in a very dire military situation," said the former chief of the CIA's Korea branch, Bruce Klingner, now a Senior Research Fellow with The Heritage Foundation think tank.
"The more targets you bomb on North Korean soil, the higher the potential or likelihood of an all-out war on the peninsula. That could lead to hundreds of thousands of casualties or millions of casualties in both South Korea and Japan."
Possible scenarios for next stage of North Korea crisis https://t.co/7TGJfCZVc0pic.twitter.com/j1agi8awFv

— AFP news agency (@AFP) 11 août 2017
With reportedly up to 60 nuclear weapons and a miniature nuclear warhead for missiles, will Kim now step back from the brink?
Miscommunication is the biggest threat in the North Korea standoff https://t.co/6NPmiJLtdUpic.twitter.com/VfAfdTG5Ok

— NBC News (@NBCNews) 11 août 2017