Police get bit between their teeth in hunt for bus mischief suspect
Comments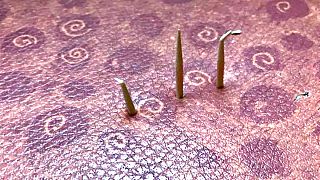 Caracas is the world's murder capital, while Chicago is notorious for high levels of gun violence.
Singapore, meanwhile, has toothpicks to contend with.
Police in the wealthy city-state, which has one of the lowest crime rates in the world, are probing a 60-year-old man over misuse of the thin wooden sticks.
They are investigating him over allegations he inserted them into a seat on a public bus, reports Reuters.
Pictures of three toothpicks sticking up from the seat were posted last month by a Facebook user, who said she noticed them just as she was about to sit down.
"Remember to check your seat next time before sitting, guys!" she wrote. The post was shared more than 2,500 times.
Authorities come down hard on minor crimes such as vandalism, which is punishable by caning, and the import of chewing gum is banned, in part to keep public spaces clean.
Two years ago, a smoker was fined S$19,800 (12,400 euros) for throwing cigarette ends out of a window of his flat.
The police said investigations into the case of the toothpicks were continuing. The offence of mischief carries a punishment of imprisonment for up to two years or a fine, or both.